This is Good: A place to share things we think are good this week.

A special edition of TIG, where we'll be featuring work we think you might enjoy this coming August at the Edinburgh Fringe Festival. We're thrilled to have our own installation at the Forest Fringe which you can also check out from the 6th-17th of August, followed by a stint at Summerhall for the latter-half of the month.
Karaoke, Sleepwalk Collective - Forest Fringe, August 6th-17th

Catatonically deadpan, gratuitously vapid and gleefully strung out, Karaoke is a performance about love and rockets for two-performers and an autocue. We're big fans of Sleepwalk Collective here at UB so we'll definitely be checking this one out.

"[Like] looking into a fun‐house mirror, with the way it takes what you know then stretches and bends it, giving yourself back to you like some distressing and fascinating gift." - A Younger Theatre

Find out more...

The Eradication of Schizophrenia in Western Lapland, Ridiculusmus - The Dissection Room, Summerhall, 3rd-24th August

A dual family drama about recovery from schizophrenia. It simultaneously stages the first psychotic episodes of a mother and son as they navigate stress and change with fantastical results involving Finnish folk, Margaret Drabble, Adolf Hitler and the knitted cover for a toilet roll. This one sounds promising, and with UB collaborator Patrizia Paolini (OWAL) involved it's certainly not something we're going to miss.

Find out more...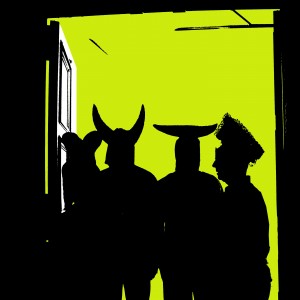 Theatre on a Long Thin Wire, Future Ruins - The Loft, Summerhall, 5th-24th August

No actors. No technicians. No set. Just you. And a phone that might ring. This is the theatre you don't see. Inspired by an infamous piece of music generated by a single copper wire, this new work by Jack McNamara strips the theatre experience down to a bare room, an audience and a mysterious voice.

Find out more...

Out of Water, Caroline Wright & Helen Paris (Various Artists) - Portobello Beach, 8th-10th August

Stories of endeavour are interwoven with haunting music, lifeguard drills, calls for help and struggles for breath. Out of Water takes you on a poetic journey from the land to the water's edge.

The singers are out of breath
The swimmers are out of their depth...

Find out more...

Get A Round, Eggs Collective - The Counting House, 1st-24th August

Join Eggs Collective at the stroke of midnight as they peddle their shambolic, anarchic comedy in Get A Round: a big show in a small room. Expect dark cabaret theatrics, lovingly raucous interactions and a satirical eye cast over popular culture.

'Razor-sharp tongues and impeccable comic timing.' - Bryony Kimmings

Find out more...

How to Achieve Redemption as a Scot Through the Medium of Braveheart, Rachael Clerke - Cowgate, Underbelly, August 1st-24th

Rachael feels uneasy about Scotland. She feels uneasy about Alex Salmond and Donald Trump. About golf, tartan and the independence referendum. She feels particularly uneasy about the fact that she once performed the Braveheart freedom speech to Rangers fans outside Ibrox. Exploring identity, belonging and machismo, How to... Braveheart delves into the personal-political debate of a country on the edge of a decision.

Find out more...

Geddes Loom, Prelude to a Number - Northern Stage, Kings Hall, 2nd-23rd August

"How do we do this? How can we make sense in the chaos when the universe won't show us its workings?"

Tessa needs to find a way of holding her life together. Leon is searching for the secret that can bring him both wealth and happiness. And somewhere a maths teacher is wondering about the divine proportions of a drum break that beats through his life. With live-looped music, spoken word and storytelling, PTAN a show about humans, maths and meaning. Devised in collaboration with and directed by UB's own Leo Kay.

Find out more...


Pioneer, Curious Directive - Zoo Southside, 1st-25th August

Fringe First winners return with the heart-breaking tale of the first human mission to another planet. Set in the near future, a maverick Dutch space flight director, far from home, contemplates an error which will cost her everything. Using a breath-taking combination of video design and movement Pioneer takes audiences on a whirlwind journey through a deep sea simulation chamber, nightclubs, mission control and back to a quiet beach looking up at the night sky.

Find out more...

Pretty Ugly, Louise Orwin - Forest Fringe, 6th-17th August

Pretty Ugly is a show about the global trend of teenage girls posting videos on YouTube asking viewers to rate their looks. Following Louise Orwin, Pretty Ugly is a look a Generation YouTube and the ever widening field of social networking. There is a live YouTube experiment, some Britney, a tender and inappropriate love story, and some of her childhood toys...

Find out more...