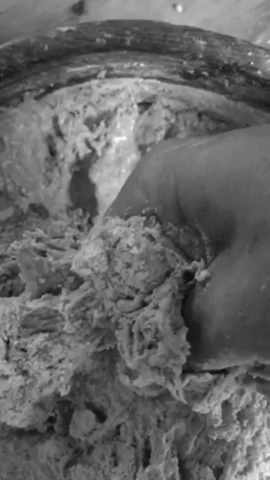 The Bakery Of Slow Ideas (TBOSI) is a durational participatory art practice. The central strand is a sourdough bread baking process and dialogical platform for slow consideration and digestion. It is also an umbrella title under which shelters several other experiences: Spell making & fermentation workshops, installations, and rituals. It was born out of personal exhaustion and my concerns surrounding the cultural norm of hyper-productivity and resultant (physical, psychological and ecological) collateral damage. This mode being propagated by what Timothy Morton coins Agro Logistics: The logistics that drove and supported the agricultural revolution and justified enclosure and enslavement; a fundamental tenet of which states that production is more important than any consideration of the quality of the product or of the process.
TBOSI calls for the urgent reinstatement of 're-sensitization to the will of other', for empathic dialogical practice and ritual as a mode of deeper listening.
The use of the time scale, metaphors, and throughline of this long-form fermented bread baking process facilitate in-depth and ritualized contexts for dialogue, reflection, digestion of ideas and for sharing of outcomes.
It is hands-on and very gentle.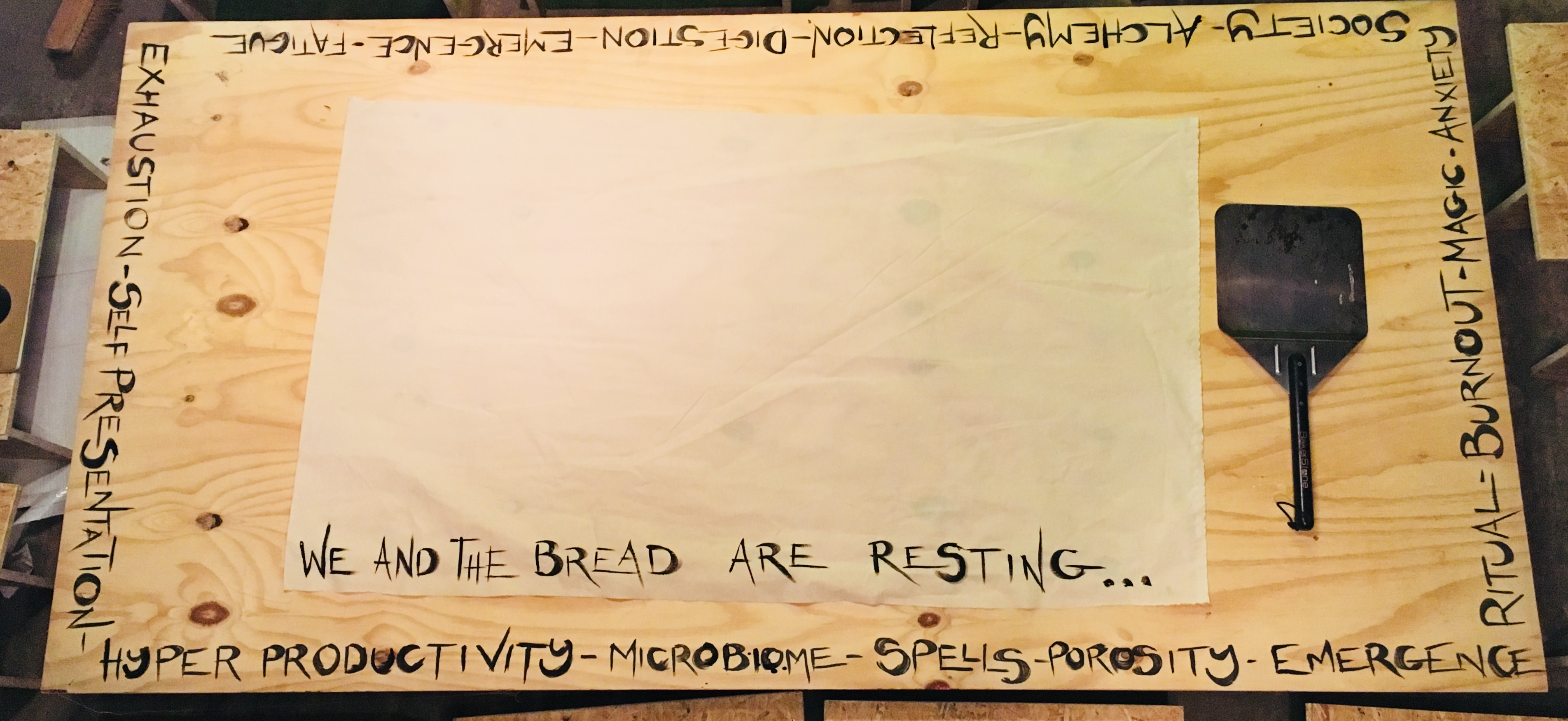 This is a process of deconditioning. An open dialogue attempting to consider the problems that are emerging within a system that consistently prioritizes product and production over quality and process.
The Bakery can take many forms. It can be a residency that spans a prolonged period of time, setting up in a shop or a community space, housing various processes including community bread baking alongside more themed dialogical, ritual and creative processes (as discussed previously). It can also be a one-off process that spans one or two days and occurs in a more specific context, harnessing the specialization of a specific group or individual guest: artist, thinker, community activist etc.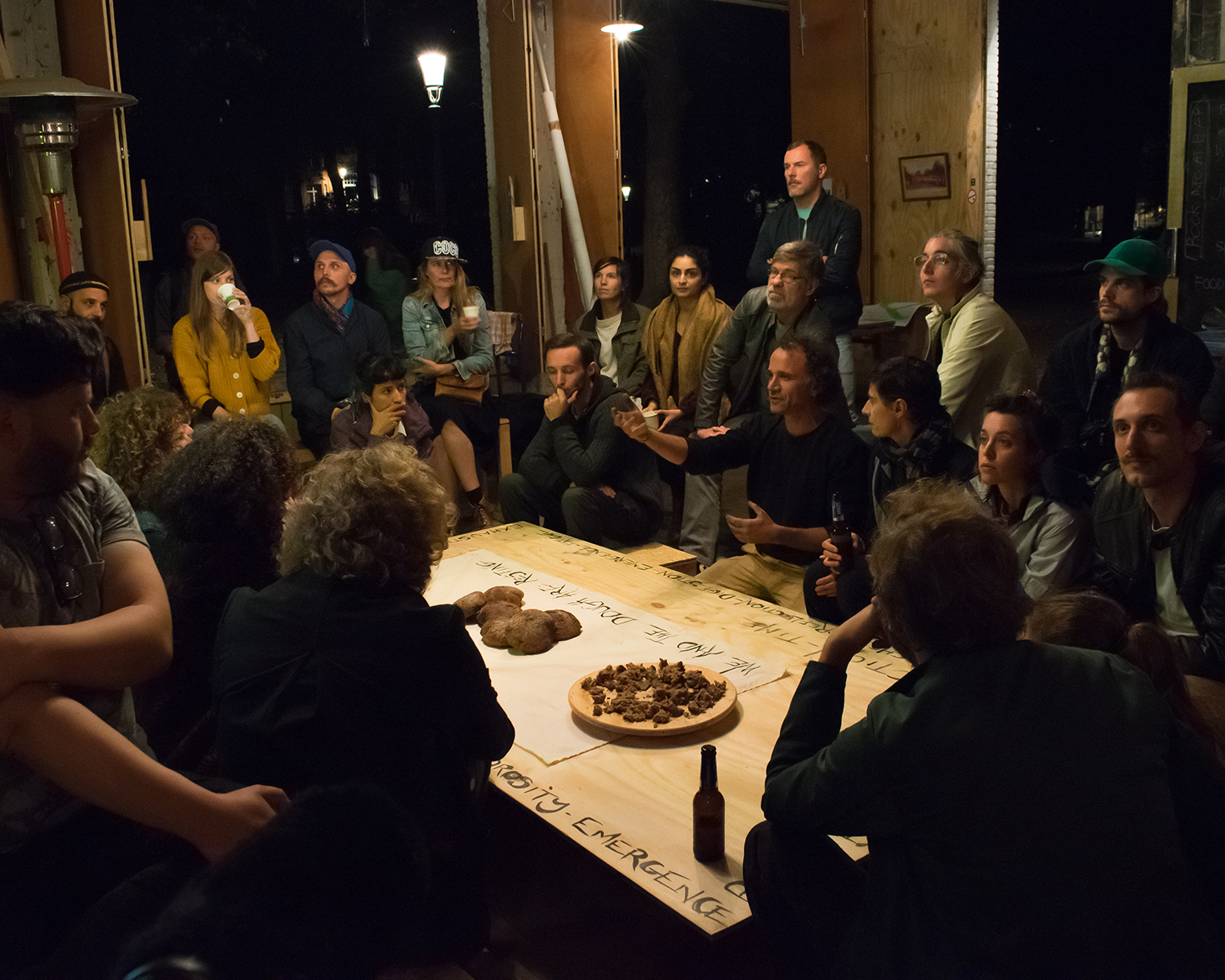 The Bakery can be themed on a specific issue from micro-organic perspectivism and the necessary awakening of a new ecological awareness to Men Baking Bread And Talking About Harassment (Tromso, Norway June 2019, Funding pending), or it can look at the overarching themes of the practice (discussed above) and hold space for ideas relevant or urgent to those participating.
Current and future plans for TBOSI:
Presentation of MUSH: Associated participatory Audio and Kinesthetic installation @ Tanz Kongress 2019 Dresden 5-10 June.
Men Baking Bread And Talking About Harassment (Tromso, Norway June 2019). In collaboration with Ice 9 arts company and Open Out Festival in Tromso Northern Norway, this is a one day process that does what the title says. 14th June 2019. (Funding Pending).
TBOSI Cambridge. A long term collaboration with The Junction Arts Centre Cambridge to create a socially engaged TBOSI based in several geographical locations across the city. Aiming at connecting the arts center with the communities within these contexts and nurturing a slow response and embedded art/dialogical process that considers the themes of the practice and the needs of the participants as equally important. Sept 2019- Dec 2020
Invitation to stage TBOSI at the residency space of artist/curator Chiary Dellerba in Puglia Southern Italy. Oct 2019 (Funding Pending)
Presentation of resultant ideas and launch of associated art book (in Collaboration with Chiara Dellerba) at Mansions Of The Future Lincoln November 2019
For more information or to discuss ideas & potential collaboration please contact me on: leo@thisisunfinished.com